18 months have passed since we returned from our last big trip.
During the last 18 months, Ryan spent six months traveling back in South America. Jack and I went to visit Ryan Bolivia  for two weeks. We spent six days in Mexico City on the way to Bolivia and we liked it so much that Mark and I returned to Mexico City for ten days in August. We all went to Dawson City, Yukon, Canada for the Top of the World Highland Games.  We all went on the usual epic summer Alaska trips (Homer, fishing in Chitina, McCarthy, Kennicott…).
La Paz, Bolivia
We spent 10 days in La Paz.  We rented a furnished apartment on the 14th floor of a secure building in Sopocachi  for $425usd a week (complete with cleaning service!). Ryan found the apartment online. He had been renting a room for the month from a place he found on Airbnb for about $10 a night. We rented the apartment and it required a $425usd security deposit, which I made with my Visa debit card.  It was all perfectly fine. A man met with Ryan and they went over everything that was in the apartment, there was a long checklist that indicated every tea cup, towel and fork.  It was spacious with three bedrooms, a maids room, a kitchen, living room, dining room and a doorman.  The apartment had floor to ceiling windows which provided a great view but felt pretty unsafe.  I would not lean on them.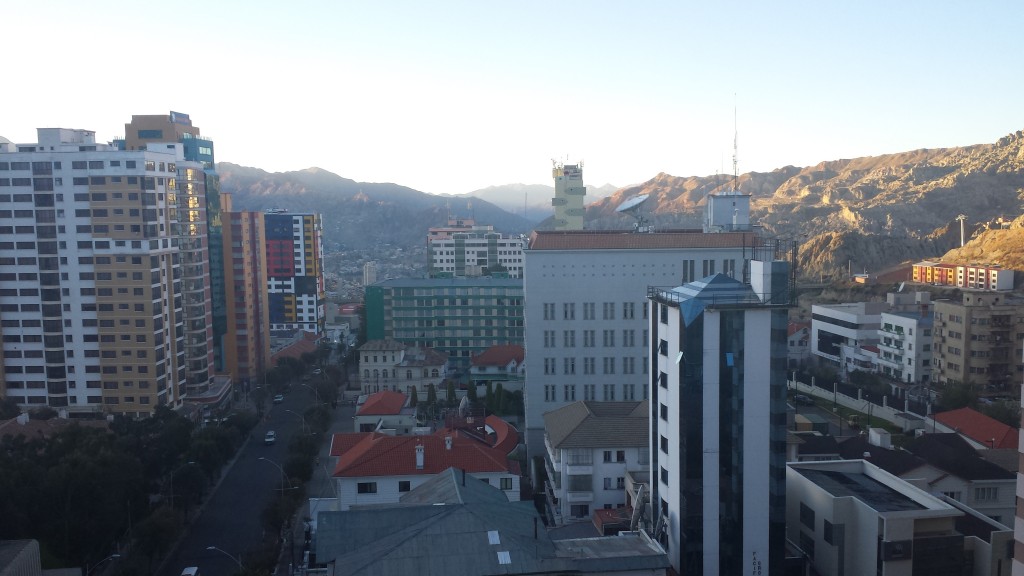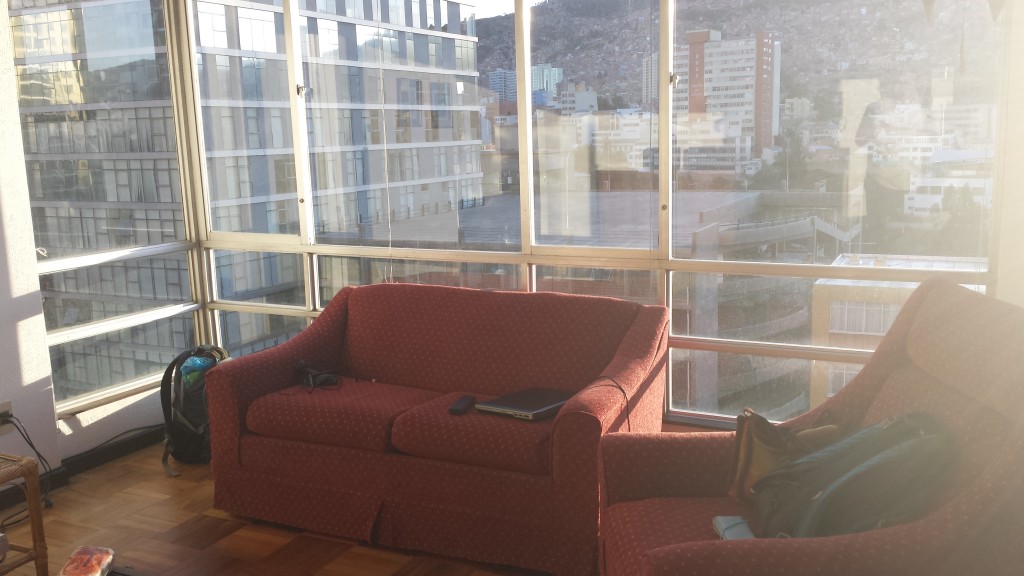 We went to the El Alto market. This was something we really wanted to do.  We had read all kinds of horror stories about this place so we were prepared – but not afraid.  I brought my phone, it was Galaxy S4 smartphone with a sim card from Bolivia. I did not take it out but I wanted it in case I needed it.  We were unsure about the best way to get there.  The Teleferico had just started operating so we decided to take it back from El Alto.  We did not exactly know where we were going so we finally decided to take a radio cab.  The cab cost about $5usd. He dropped us off at the big edge of the market by the Teleferico line (which was hundreds of people long). We meandered around for several hours.  There was some organization to the market and we spent most of our time looking at blue tarps of junk because that is the kind of stuff we like to look at. I bought a silver olive fork and an old skeleton key.  We wandered and tried to find the yarn section, which we did by accident.  I bought several kilos of lovely alpaca yarn, some of it handspun.  Ryan wanted a mechanical watch so we walked around for a long time after that, just looking at all of the stuff for sale.  We wanted to be home before dark and the Teleferico line was so long we could not find the end of it (it was the first week it was open). We decided to take a combi home.  We were a little confused about where to catch one because there was a cloverleaf thingy and it was hard to see what combis were stopping where but in hardly any time we had figured it out and we took the combi home.  Our experience  – the El Alto Market was not much different than any other market we had been in, in fact, we had felt more on guard when we shipped the van to Los Angeles and spent a few days by the shipyard in Long Beach.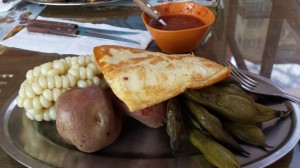 We road the teleferico, bought alpaca yarn by the kilo, we ate at several vegan and vegetarian restaurants and at night, we would often walk over to the Radisson Hotel, take the elevator to the top floor where Ryan had found a bar with a baby grand piano.  We were always the only people here.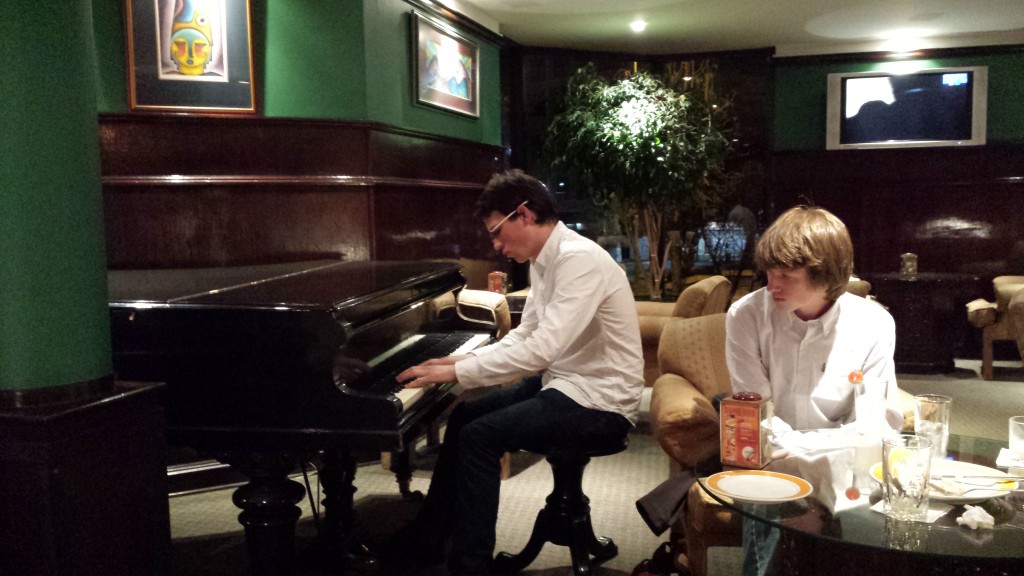 We ate at Gustu's, (restaurantgustu.com), which, according to Food & Wine is one of the best restaurants on the planet. We ordered the tasting menu (we called ahead and asked for two to be vegetarian) and we got a great five course meal paired with Bolivian wine and beer.  The sommelier, Jonas Andersen, was kind and knowledgeable.  We left with four bottles of Bolivian port that tasted like chocolate covered cherries.  Gustu's will sell you any wine on their menu for half price if you take it to go!  The port was $8usd a bottle.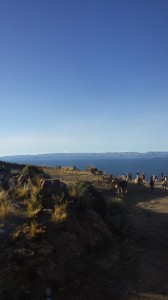 We made a trip back to Puno, taking the bus to Lake Titicaca, getting off while the bus floated over in a raft and we were ferried across in little boats, taking the bus a few more miles to Copa Cabana and switching buses there for a bus to Peru, stopping  at the border where we walked across, and then arriving in Puno late. This was the second time Jack and I had made the trip and the fifth time for Ryan.  We know Puno quite well so we visited friends from the Grifo Salsido and went to Oscar's restaurant (www.facebook.com/lovinghutperu) and met up with a good friend who took us the tiny market.  We had not been to the tiny market the entire time we lived in Puno.  The tiny market is only open one day a week and it sells tiny things for spells, magic, graves, altars and charms.  Tiny beer bottles, tiny cigarettes, little cars, lots of things.  We got a tiny house and we paid extra to have the spell worked which would help me have a better house in one year.  The spell took some time and involved a hot sauce bottle filled with blue gel and a handful of yellow confetti.  You could buy tiny money (dollars, euros, pounds, pesos). We bought a friend a tiny degree as she was just starting graduate school but then we had to fill it out.  And this is serious business.  When we did not write down her middle name, we were severely questioned and it was clear we did not know her middle name, so a conference was in order and, after about 10 minutes and many people consulting, a decision was made that we could fill it in later.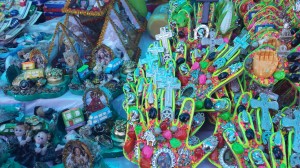 We had suits made for Ryan and Jack and they turned out really good.  Jack's suit was about $90usd and it was custom made from fabric he selected.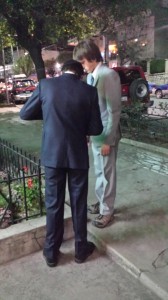 Mexico City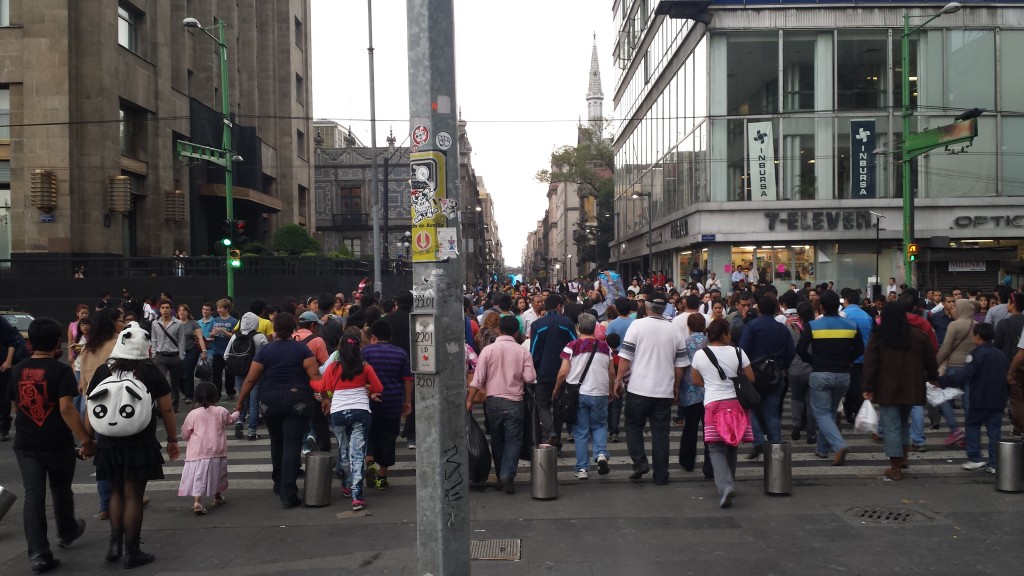 On the way to Bolivia, Jack and I spent five days in Mexico City.  I had not been there since 1987 and I was surprised at how clean it was.  We went to the Ballet Folklorico de Mexico at Palacio de Bellas Artes, visited the Teotihuacan Pyramids, went to the Frida Kahlo Museum,  and found the Best Bakery in the World. But mostly we strolled around   Zócalo.  We had such a great time in Mexico City that Mark and I went back in August for 10 days.  We rented a great apartment on Airbnb right in the center of Zócalo. Ryan was on his way back to Alaska from Chile so we all met up for a few days and had a really good time.
The first time when Jack and I went, we rented a hotel room in Zócalo.  It was an okay room and we got a good price, it was the Hotel Marlowe, usually like $80 a night and we paid $42 for a double.  It was clean but very small.  The second time we went, we rented an apartment on Airbnb for $28 a night and it was spectacular! It had a kitchen, dining room table, an extra bed (for Ryan), washer & dryer, a patio, a record player and a big stack of records, a kind doorman and it was in a great location. Such a better experience!  Plus we were right down the street from Pastelería Ideal on Av. 16 de Septiembre, arguably the Best Bakery in the World (and we are still arguing about that).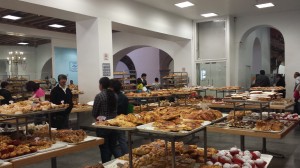 Because Ryan likes the view from tall buildings, we spend several evenings atop the Torre Latinoamericana, where luckily there is a bar.  We also went to the World Trade Center Ciudad de México, where, at the very top on the 45th floor is Bellini's Restaurante, which holds the Guiness Book of World Records for Largest (but not highest) revolving restaurant.
Canada & Alaska
In June, we traveled to Dawson City, Yukon Territory for the Top of the World Highland Games where Jack took two first place medals for playing bagpipes.  In July, we traveled to Palmer, Alaska for the Alaska Highland Games where Jack took  first, second and third place in three competitions and Annabelle and Sylvia competed in their first official Highland Dance Competition.
Alaska is so beautiful but, I suppose because we live here, we never post photos from Alaska.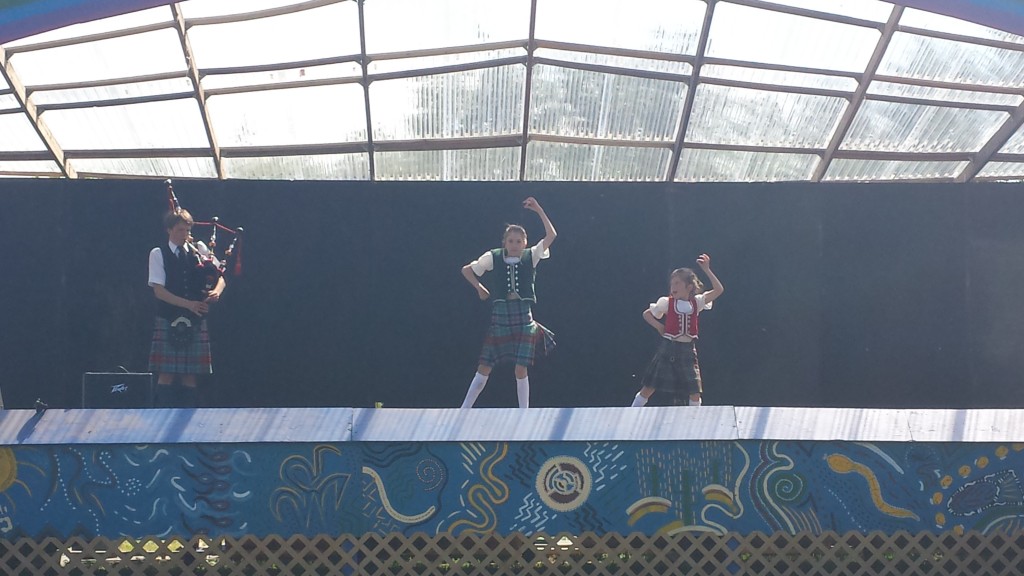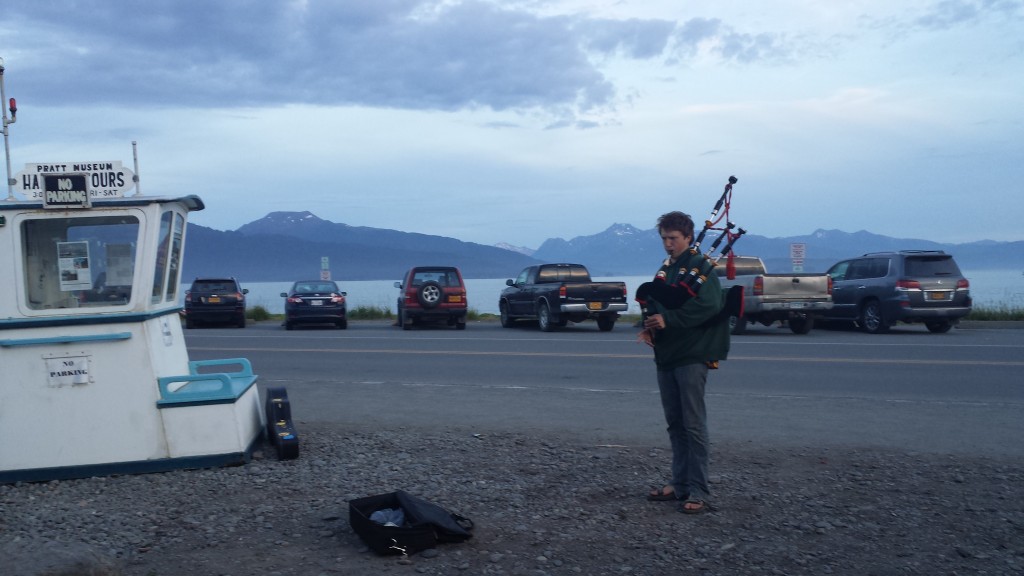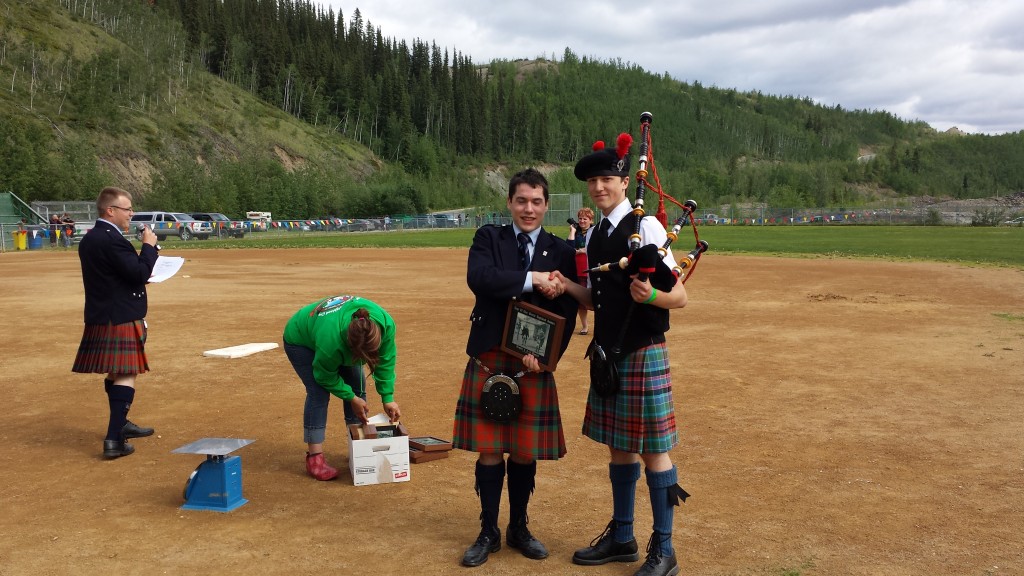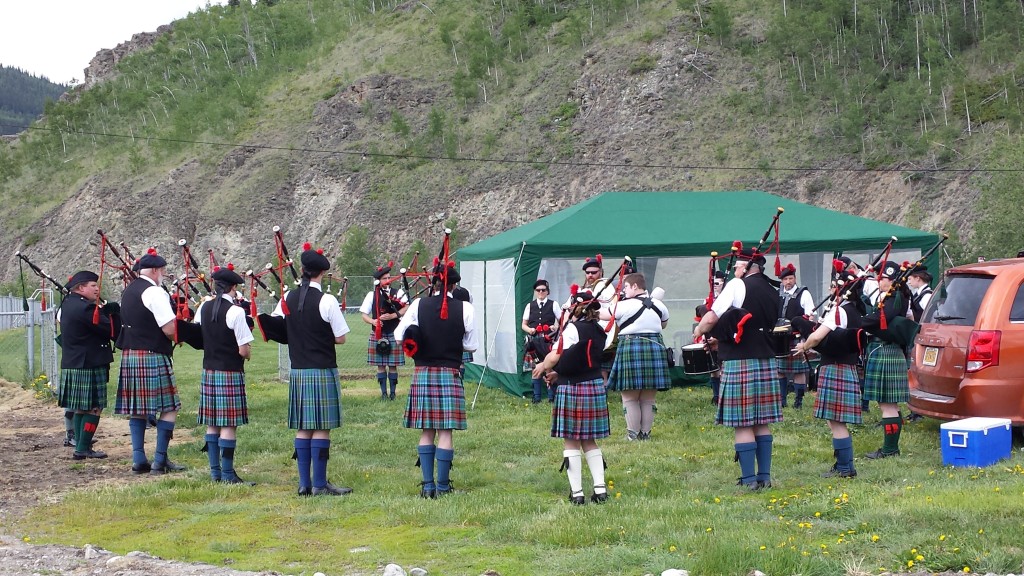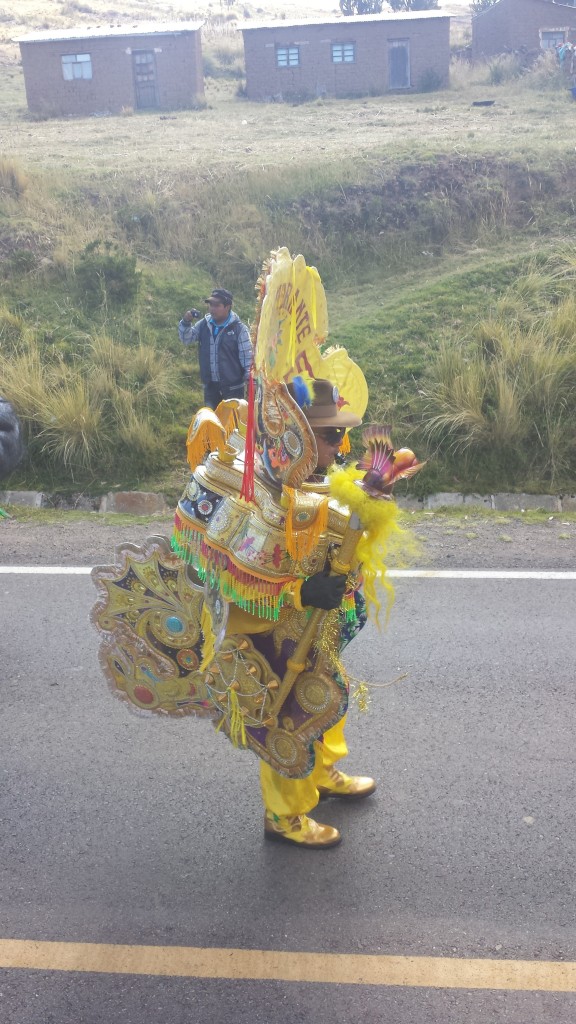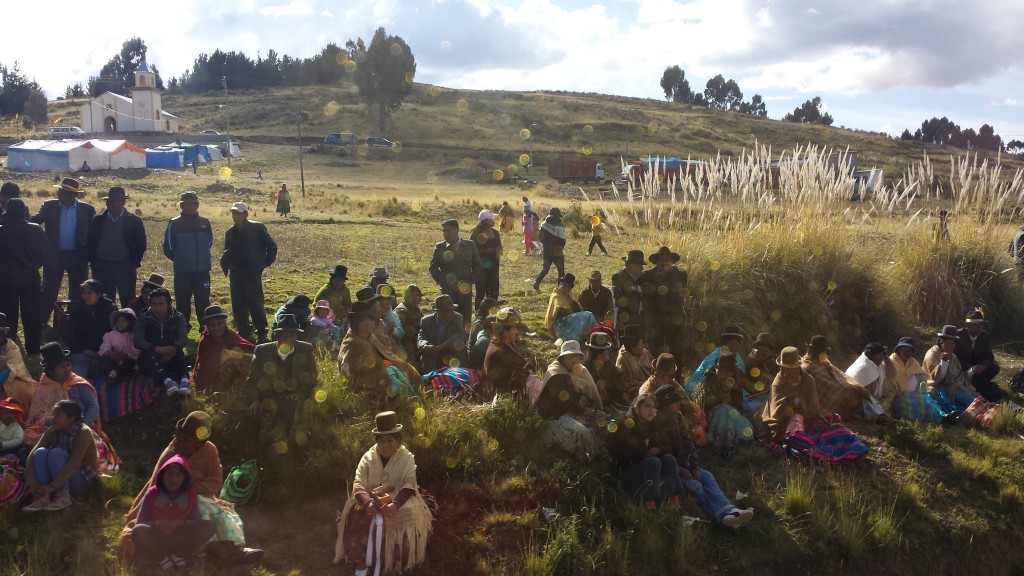 Dawson City, Yukon Territory
Alaska