We have decided we like our hotel.  It has ice cold air conditioning (Sylvia calls it air refreshening) and screaming fast internet (only really in the girls room) and it is clean and the beds are very comfortable.  The kids were concerned that the showers only come in one temperature (tepid) but that was all explained when we returned nearly passing out from heatstroke and the water felt wonderful.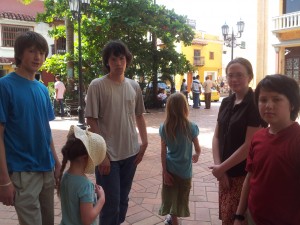 We discovered that Cartagena is really lovely.  It is like a bigger, more authentic colonial Caribbean pirate city than New Orleans.  It is very colorful, lots of pinks and yellows and wrought iron and palm trees — and we saw women with fruit on their head walking around.  Easy to see why this is a UNESCO World Heritage Site.
We tried to use google maps to chart our walk but Cartagena has almost no cross walks so google maps had us walking all over the place to cross at crosswalks.
The heat is almost unbearable.  Perhaps it is the lack of any coloring in our skin (we are uniformly solid white).  Perhaps it is two decades in Alaska.  But whatever the reason, the heat just does us in.  The sun shines and the day is 94 degrees.  Its like a combination of Miami and Death Valley.  With salsa music and a million people.  Who speak Spanish.
The kids have been really awesome travelers.  We walked about 3 miles today (which is not so much as we are a walking family) but it was hot and sunny and crowded and very unfamiliar on narrow streets with speeding cabs and was quite overwhelming.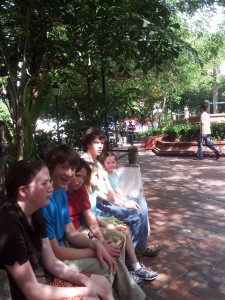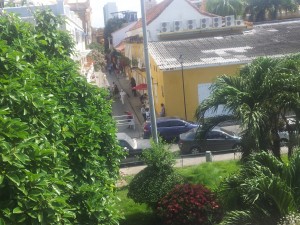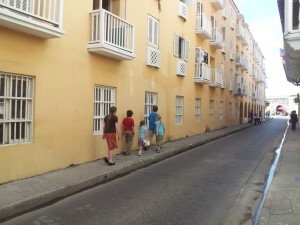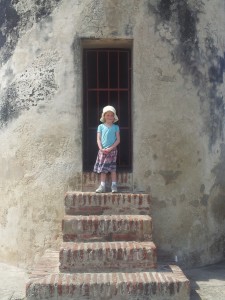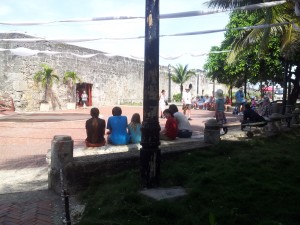 🙂