Woke up this morning at 5:30and Team DeCorso was on the road before 7.  We dropped Ryan off at East High School for his ACT and then we did a leisurely driving tour of Denver and stopped at Benny's Restaurant for breakfast (http://www.bennysrestaurant.com/).  We had Famous Breakfast Burritos (eggs, potatoes, smothered with green chile and cheese on top) and Sloppy Breakfast Burritos (eggs, potatoes, peppers, onions, tomatoes, jalapenos, chorizo, bacon, sausage smothered with chile verde with cheese on top).  Annabelle had steak & eggs.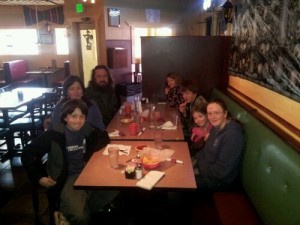 Then we headed to Bekka & Jeremy's house where we were amazed by their incredible Lord of the Rings collection.  And their cats.  We all piled into the van and headed to Boulder, where we walked along Pearl Mall and bought 4 glow-in-the-dark fairies, 14 marbles, some lovely died curly roving, five coffees and chocolate from the Rocky Mountain Chocolate Factory.  Saturday night Mark and I went out for Indian food with my old friend Bob.  We reminisced about a memorable trip to California where nearly everything went wrong – but was still a fabulous trip.
Sunday we headed out for a day of thrift stores and parks but the van had a van issue and we returned to the campground where Mark spent the rest of the day fixing the rear brake assembly.  Sylvia and Annabelle tried to catch a bunny and there were several deer just hanging around.  At 8pm, the van was fixed and we headed to King Soopers for some quick groceries and then headed home.
We have a dire need to do laundry so Monday we got up early and Mark left to do that and the rest of stayed here and readied the camper for travel.  As soon as Mark returns, we are headed to the Denver Children's Museum!