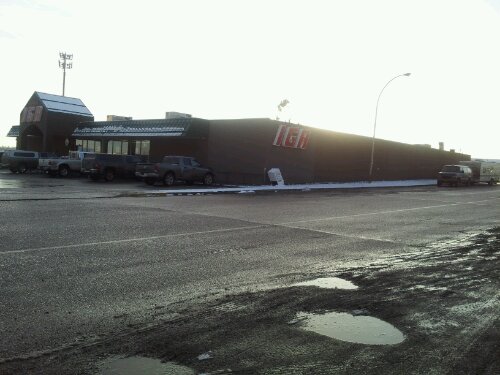 We all really like Fort Nelson.  Every time we pass through we try to stay the night.  The IGA always has great unexpected deals.  Last time, it was perogies.  This time it was fresh french bread ($1 a loaf!) so, because Saturday is traditionally DeCorso pizza night, we made french bread pizzas with pepperoni, bacon, roasted chicken, mushrooms, tomatoes, jalpenos, barbeque sauce, pizza sauce, olive oil… 
We also got a bottle of Canadian blackberry wine which we have not yet tried.  We are parked right out front of Dan's Neighborhood Pub and as soon as we get dinner put away, Mark and I are going for a beer.
Update: Dan's Pub turned out to be a nice place. Two Kokanee's and a plate of poutine and we are heading home.