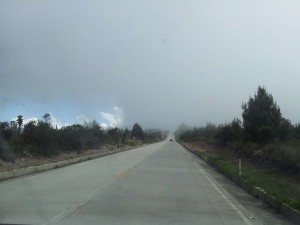 We meandered along the Pan American Highway that drove through the Ecuadorian Andes, up to more than 12,000 feet and then down to 1.400 feet.  The Pan American splits at Riobamba and again at Loja and heads into the lowlands  but we thought it would be hot and not as scenic as the route that took us through Loja and crosses the border at Macara.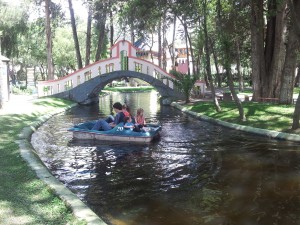 Loja was the nicest city we visited in Ecuador.  The parks were beautiful.  We camped at one that had canals and lakes with pedal boats and swans and peacocks and flamingos and three gigantic, pastel castles with slides and turrets and spiral stairs and towers.  We are reading Harry Potter (just started book 4) so there was a lot of yelling "expelliarmus!"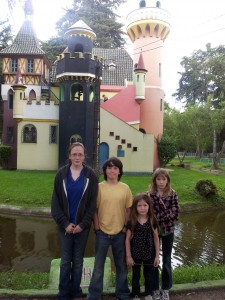 from the castles.  Even Ryan pedaled a boat!
After a few days in Loja, we headed to the next city Catamayo.  We camped on a hill and there was a loud and raucous parade at 9am with a marching band, saints – and our favorite, megaphones!  We walked around the town, which was picturesque and very nice.  We did some of shopping (avocados, tomatoes, red onions, potatoes, carrots, cauliflower, pasta, rice & beans) and talked to quite a few people, who had seen our license plate and, of course noticed we were not from this small town – and that we were very white.  Catamayo was very nice. One thing about Ecuador was all the clown garabge cans everywhere – sometimes there were streets where every store had one and they all looked different.  They were kind of creepy.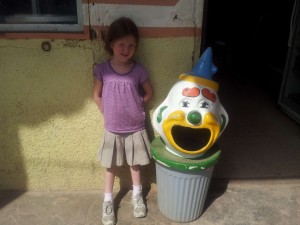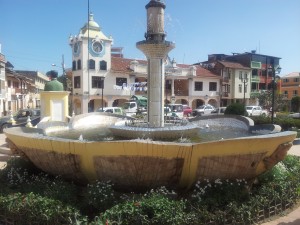 The next day we headed toward Peru.  We got to the border town of Macara where we were only allowed to get $5 in gas (which actually filled the van up – gas in Ecuador is $1.03 a gallon and gas in Peru in over $5 a gallon) and the ATMs were all broken.  We drove to the border and parked.  We relinquished our vehicle documents at the border and got stamped out of Ecuador.  Then Mark drove the vehicles across the bridge and into Peru while we all walked across the bridge.  It took a long time to do the vehicle paperwork.  A long time.  A good natured long time, but still a long time.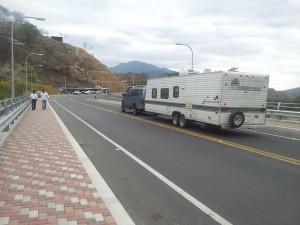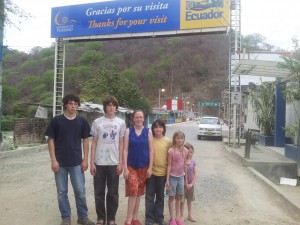 It is funny how different a place can be once you cross the border.  Peru looked different.  People had different accents.  The food was all different, different brands, different dishes.  Northern Peru is not a place many people go.  All three of our guidebooks start with Trujillo and mention a day trip to Chiclayo for a museum – but we were two days drive from Chiclayo at least.
Northern Peru is desert.  The second driest desert on earth.  We knew this but we were unprepared for exactly what that would mean.  We didn't finish with the border crossing until almost 5pm.  The border guards suggested Los Lomas as a good place to camp for the night so we headed toward it.  Twice police stopped us to ask us about Alaska and if we liked Peru.  Once Mark gave them a tour of the camper.  They also suggested we head to Los Lomas.  We pulled into a gas station and the gas station attendant thought we should stay right there so we did.  It was a little noisy but very well situated, close to tiendas and such.  In the morning, we walked to an ATM and got some Peruvian sols and bought some water and some bread and headed south.
Northern Peru is also covered with trash.  Covered.  With.  Trash.  Like in some places, we waded through it.  Lucky it is dry, brittle trash and not wet, sticky trash but still.
We came to the crossroads where our road reached the coastal road.  We could head north to the desert beaches or south.  After some discussion and no consensus, we headed north.
The desert was really desert-like with sand dunes and canyons.  We parked for the night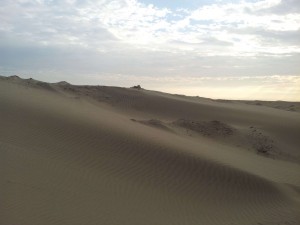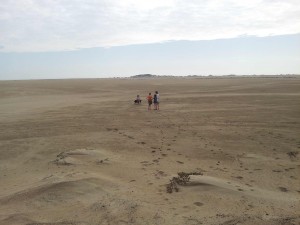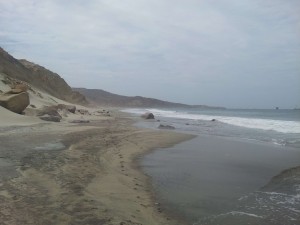 (South American for camping) in a field behind a store which was on the edge of the desert, which was beautiful and quiet – and so dry but yet there were mosquitos.  The next day, we headed down a winding sandy road to the beach where we experienced first hand the parching lack of fresh water you can only experience on a desert beach.  Sunburned and hot, we returned to the camper for a nice desert evening.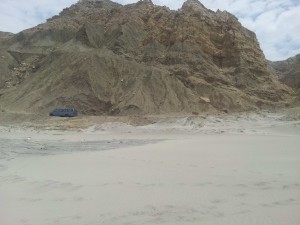 Mancora was on the agenda for the next day.  Mancora is a strange yet beautiful and compelling desert beach town where the beach looks just like Goo Lagoon from Sponge Bob – thatched huts, ice cream, umbrellas, surfers, lifeguard chairs.  We sat on the beach, walked, bought some ice cream, potatoe rellanos and Max got a salchicone (paper cone filled with french fries, hot dogs, chicken, mayo, mustard, ketchup), listened to music, watched a parade of the three finalists for Carnival Princess, bought some groceries and headed home.   Home had mosquitos in it, strange desert mosquitos.  We spent significant time killing them and spraying down with our huge stash of mosquito repellent (10 cans! – end of the summer sale at Walmart in Fairbanks).  The next morning, Sylvia and Jennah looked like they had chicken pox – so many mosquito bites.  Time to move on.
Back south we drove.  We had to stop in the city of Piura.  The GPS took us right through the center of town (El Centre) which was so stressful words cannot explain.  It didn't need to do that, the Pan American looped around the city so it was unnecessary stress.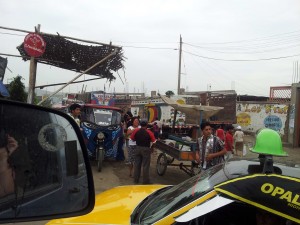 We needed three things in Piura: an unlocked prepaid modem, a Peruvian sim card for the phone and sim card with data for the Iphone.  We stopped out of town and Mark & Ryan took a cab into town.  We sat in the camper and had lunch.  We read Harry Potter.  We began to slowly die of heat stroke.  Finally they returned, smelling of fish (the taxi) and we were on our way south to Lambayeque, 8km north of Chiclayo.
Lambayeque has a museum famous for owning a complete tomb of a Moche King (the Lord of Sipan) NOT robbed by grave robbers.  This was our destination.  The drive was covered, literally covered by garbage.  Garbage everywhere.  It was not picturesque.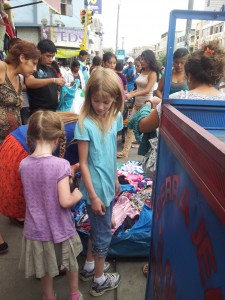 And there was nowhere nice to park overnight so we parked in a somewhat nice gas station at the edge of town that was spacious and quiet and had water and very nice women working there who were amazed at Jennah's whiteness.  Like Annabelle and her blonde hair and pale skin, Jennah with reddish hair and freckles really stands out.  People touch their hair all the time.
After Lambayeque, we drove into Chiclayo, fourth biggest city and an almost entirely indigenous city (says Frommers – which I think in Frommers translates to dirty and lacking infrastructure) and found another nice gas station to park at – we are now experts at South American gas stations.  Many are much nicer than you are probably imagining.  We went into Chiclayo in search of the famous Witches Market.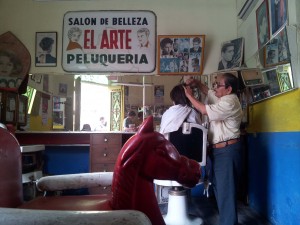 We found a great barbershop -completely unaware of how hip it was, straight out of the 1940's.  For $2USD, Max got a complete Mad Men haircut, complete with greasy oil stuff.  Jack tried to pick a Billy Idol haircut from one of the "modern" hairstyle books from 30 years ago – and ended up with the same haircut as Max.  Once we got the styling products out, the haircuts were great.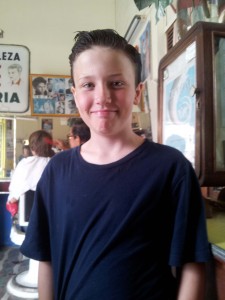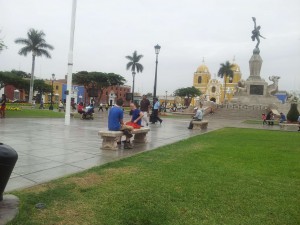 The next day we headed south to Trujillo.  Trujillo had a colonial house that once housed the first viceroy of Peru in 1604and, most importantly, now housed Simon Bolivar's desk which you can see if you present your passport at the door.  Our next destination.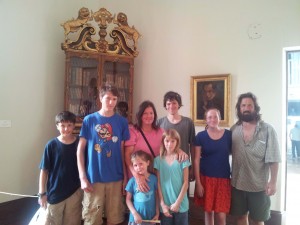 Trujillo is Peru's third biggest city.  Again, (for the last time), the GPS let us down.  It took us through Trujillo along a narrow dirt road through the center of the jam packed fruit market.  This is especially frustrating as Trujillo is filled with wide, paved streets.
The house containing The Great Liberator's desk was on the main square, the Plaze de Armas (which also had a chic black McDonalds, only the second one we have seen – one was in Medellin).  Simon Bolivar lived in that house for two years in 1824 -26.  The house is coincidentally the federal reserve of Peru, explaining the need for passports.  Many people were waiting in chairs in the outside foyer of the house and they were all excited we were there to see the desk.  We were enthusiastically ushered inside.  We saw ancient conquistador-era tables, courtyards, coins (as this was the federal reserve) – and Simon Bolivar's desk.  It was so ugly we were speechless.  Our guide encouraged us to take many photos, all of which turned out blurry (the ghost of The Great Liberator?).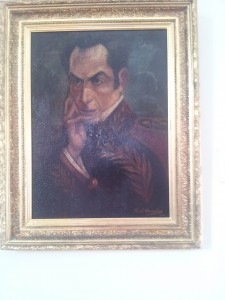 An oil painting hung by the desk  – we had no idea that Simon Bolivar looked like that.  He certainly didn't look like that in statue form.
We meandered through the city and found a super mercado, which is always fun as we get to buy Tang in strange flavors and weird cereal and soda.
We decided to camp for the weekend on the beach.  Just next to Trujillo is a lovely wide and sandy beach that we are able to drive right onto and camp.  It is very quiet and peaceful and we are still here on Monday night…