We have spent a week in Otavalo, Ecuador.  Otavalo is in northwest Ecuador at 7,940 feet (according to Max's new watch with an altimeter).  Otavalo has the biggest indigenous craft market in South America on Saturday.  The parqueadero where we are staying is right in the center of town, literally kittycorner from the market square.  We wanted to stay until Saturday and we arrived on Tuesday night.  Monday and Tuesday are work days for me so we stayed until Tuesday because we had one good fast internet connection.  We have two high powered wifi adapters (thanks to great advice from www.liferemotely.com!!) and only one can make the parqueadero wifi work.  So we all share it.
We had plenty of time to explore the town.   We drove up to the Parque Cóndor one afternoon and we drove to the village of Peguche where Jack bought a, rondador, quena and chacchas and Ryan bought an ocarina.  The days are now filled with haunting Andes music.  The drive was straight up, about 2000 ft above Otavalo.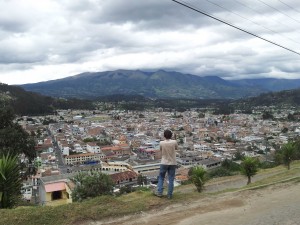 The market is every day but on Saturday it triples in size.  During the week, it takes up the entire town square and on Saturday the streets surrounding the square  fill up.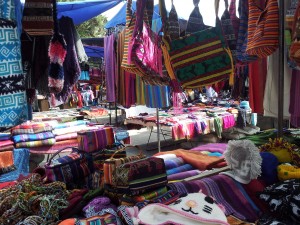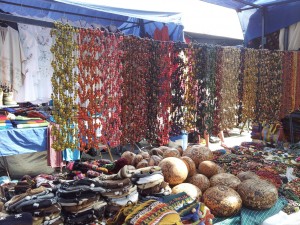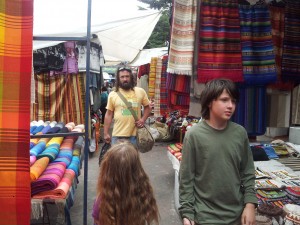 In another section of town is the food market.  It is filled with flowers, fruits, vegetables and every single part of every animal.  Stalls of chicken feet, pig heads, tongues – very colorful.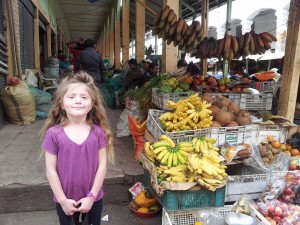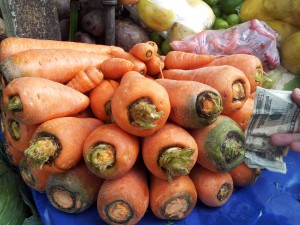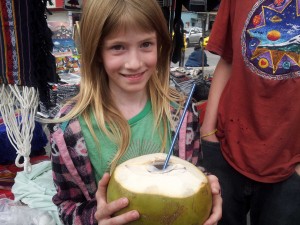 Louie got hit by a car here and his death was very hard on everyone.  Two days later, a little dog showed up when we were in the market and followed Ryan all day.  The dog continued to follow Ryan, sleeping in the road outside the parqueadero every night.  We didn't feed her or anything.  She was particularly devoted to Ryan, waiting for him to come out of stores and waiting for him to wake up in the morning.  She even tried to follow the van.  She got shooed away from stores and restaurants and still persevered, we could not shake her.  She is quiet and low key and seems happy to have kids who pet her.