Santiago is only a two hour drive from Valparaiso.  We never know how its going to be, driving into a city of 5.4 million people.  It turned out just fine, we arrived on a Sunday afternoon and found a great camping spot at a truck stop south of town.  The truck stop was next to a large park called Cerros de Chena – Parque Metropolitano de Santiago, so we felt an instant affinity with the park.  It also had an amiable, likable homeless man named Rueban,  the kind of homeless person who would give you wise advice in a romantic comedy.  The kind of homeless person you always want homeless people to be like – kind, wise, down on their luck (not crazy, psycho, muttering, shoeless & scary).  Rueban appointed himself the watcher of our camper, promising to keep it safe from Banditos.  And he did!  In return, we had fun buying Rueban things at the grocery store.  He begged for money at the gas station and lived in a tent in the Cerros de Chena so he pretty much ate what they sold at the gas station store.  We also gave Rueban our portable grill, the propane fitting and a small tank of propane.  He had never seen one before and we were worried a bit at first that he might sent the park on fire.  But as of this blog post, no damage has been done because of the propane grill.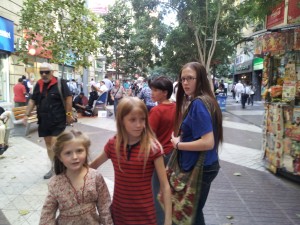 We spent a few days in Santiago strolling around the broad pedestrian streets and eating Chilean sopapillas (deep fried bread topped with spicy fresh salsa) and pine nut & cheese empanadas.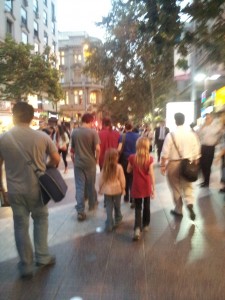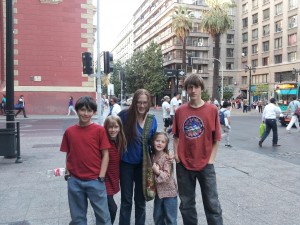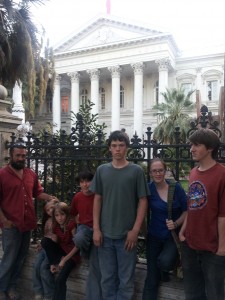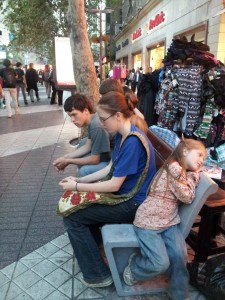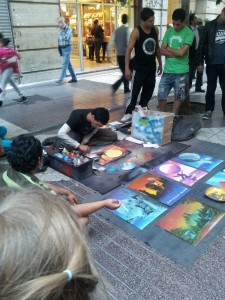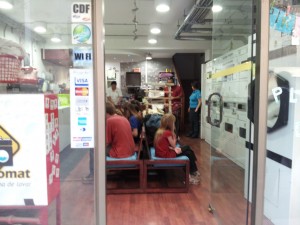 We went to the Museum of Memory & Human Rights where we learned quite a lot about the reign of Pinochet.  Unlike the Shining Path exhibit in Lima where Peruvian people did not have cameras (even in the 1980's) and all the photos were from foreign journalists, this museum was well documented with video, photos and interviews and it was an effective museum.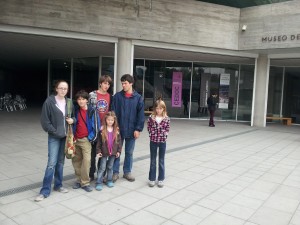 We went to the Museum of Modern Art and were thoroughly entertained for an hour.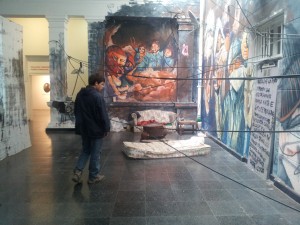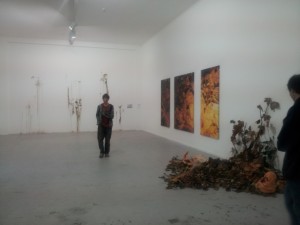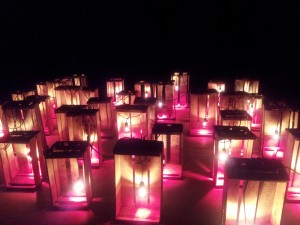 We returned to the camper and got the low down from Rueban: a man was looking at the camper.  We soon found out why as a note was tucked into the window – he wanted to buy the camper.  He returned the next morning and he talked to Mark for a long time.  People always have questions about the camper – how does it work?  Where are the water tanks?  How do you hook it up to the van?  Mark was illustrating the last one and put the hitch on the van and forgot to take it off.  He also forgot to lock it on.  We left that day to visit NYKLine's SA office to work on shipping logistics.  We drove through Santiago, got lost a few times and stopped at a park.  We decided to just call NYK and headed back to the camper, stopping at the grocery store to bring Rueban a bunch of different cookies (Ryan did gas station store recon so we had a good idea what he ate).  We returned, cleaned up and prepared to head south when Mark realized that the trailer hitch was missing!  He had left it connected to the van and it fell off when we drove that morning.  We painfully retraced our route, possible only because Mark has a photographic memory for driving.  We call him the Forensic Driver because he can always tell what happened at a scene or remember exactly the way we drove.  We drove but did not find the right hitch.  The next day, we drove back into town to buy a hitch but, because such things like trailers are rare in Chile, so are trailer hitches.  We went to three stores before we got to the wonderful store MetalCar where they sent us to a place to get one fabricated.  Turned out fabricating a hitch was not engineeringly sound and we could special order one for $600 plus expedited shipping plus the extra hitch AND 10 days of waiting –  so we returned to MetalCar to buy the hitch they had bu (Mark said he could make it work) -but they were closed.  We headed back home and, as you may have guessed, we were  downright despondent, disturbed, and depressed.  So we stopped at the grocery store (very fancy, like Whole Foods) and bought Rueban a three pack of empanadas from the deli.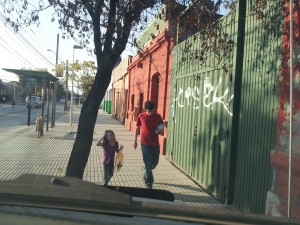 In the morning, we headed back into Santiago where Mark took the van to a brake shop to have the back brakes adjusted and the kids and I walked around looking for street food (which of course we found) and then back to MetalCar for the hitch.  Its not the right hitch but it seems to work.  And best of all, the nice man at MetalCar posted a comment on our blog of all the food we should try to eat in Chile, something we are absolutely hoping to accomplish!  If you are ever in Santiago and need help with your trailer, head to MetalCar! http://www.metalcar.cl/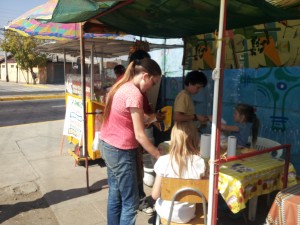 The whole Santiago escapade was like a giant scavenger hunt and we had a really thorough driving tour of the entire city and now feel like we are very well acquainted with Santiago.  We will be coming back through here on the way north so we are looking forward to more  Latin jazz.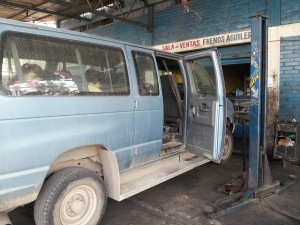 So now we were ready to head south.  We hitched up the camper, said goodbye to Rueban and headed south.  The days are getting shorter and colder, the sun doesn't come up until after 8am and other overlanders say the wind is bad in the far south but we are going to see how far we can get.