I was hoping to be posting continuously when I left Fairbanks. Time did not permit that. I'm finding I have a lack of time pretty regularly these days. There is a lot to talk about.
I went down to Tampa in late July. Goal one was to help Ryan get a new  vehicle to drive around the Lower 48 with. I spent three days with Ryan finding cars online, looking at them, buying one and getting it registered.  We got him a pretty cool Toyata Camry and is was really great spending time with Ryan. We had a lot of fun.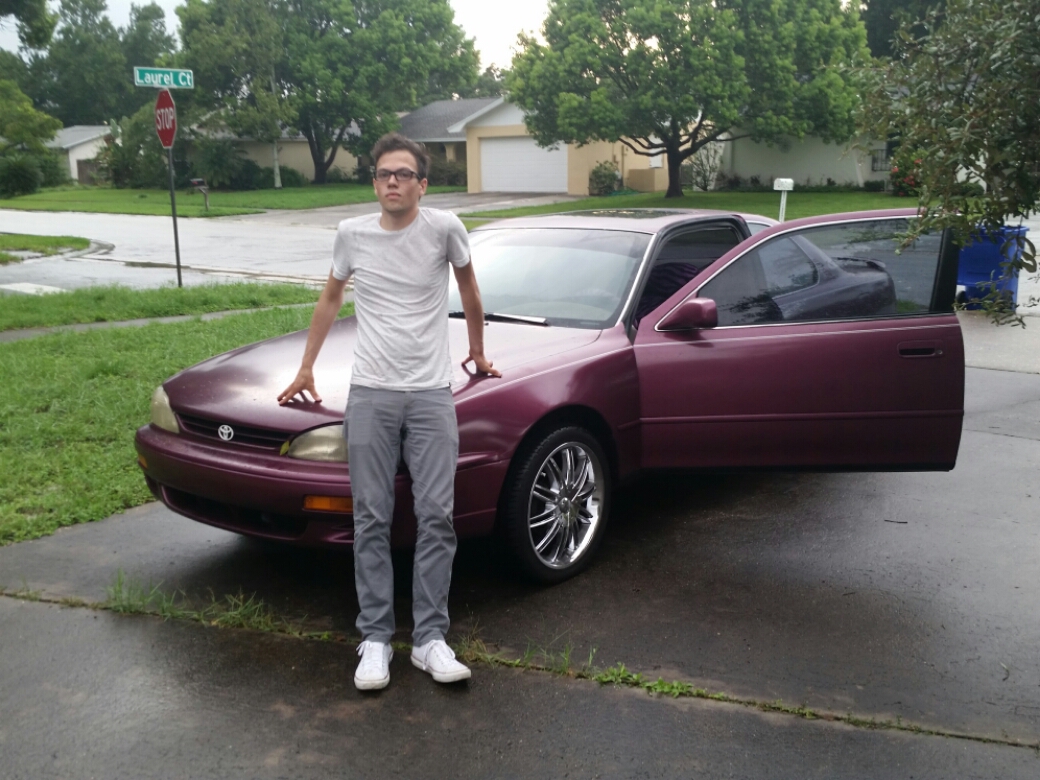 Goal two was to check out the new expedition vehicle, a 1992 29 foot Class C motorhome we purchased off of Craigslist a few months earlier. So far, only my Dad had seen it. We had photos, but that was it.
The motorhome had been placed in a storage lot near my parents house in Dundedin. Ryan and I found a car for him so he dropped me off at the yard and I drove the motorhome to my parents house to look it over. There reportedly was a small leak in the rook from the air conditioner,  but otherwise, everything was supposed to be good. Shortly after I got the vehicle to my parents house, Ryan left on his big adventure.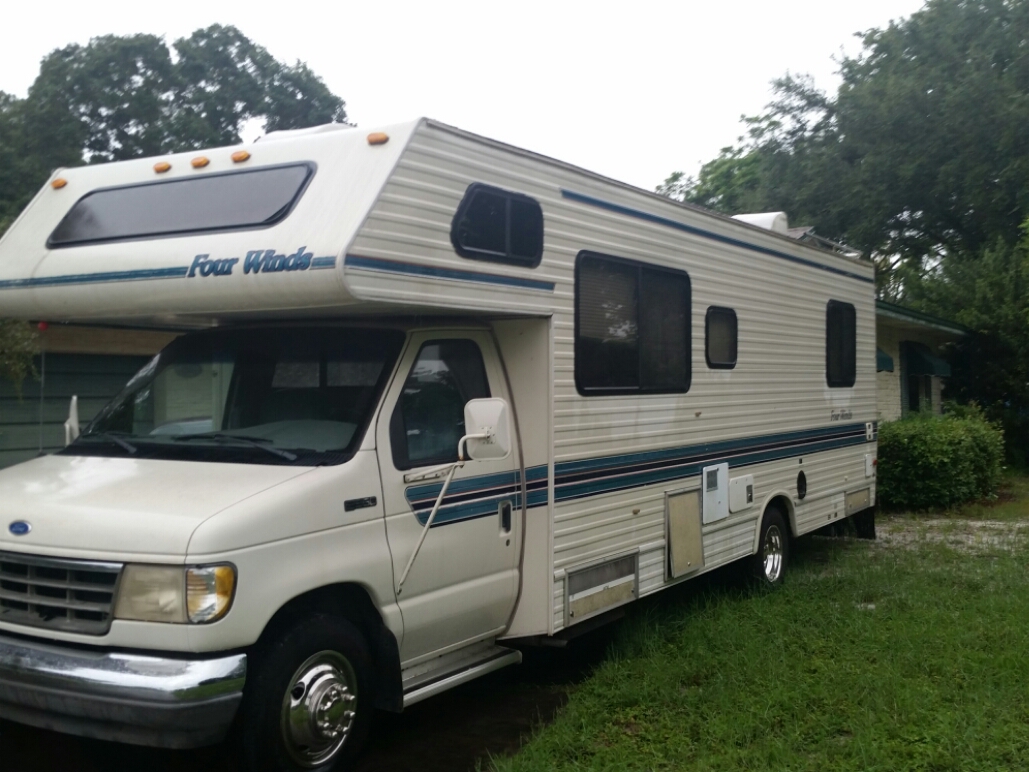 While I was at my folks house and right after Ryan left,  the Tampa area received record rainfall, 10 inches in 24 hours. Roads were flooding, snakes and kids swimming in the streets, pools were popping out of the ground from over saturation beneath them, catfish were turning up on decks and lawns. It was crazy. I would say it was raining buckets, except it was more than that. Really. So this made it really hard to get any work done. It also showed that there were more leaks than previously advertised.
The inside of the motorhome took a beating. The roof leaked in several places. The inside smelled awful. Musty, wet, awful. I was becoming very concerned that the thing was a total loss. The kitchen counter top was formica covered particle board and much of it had swollen from ¾" to 2". The dining room table had suffered the same fate.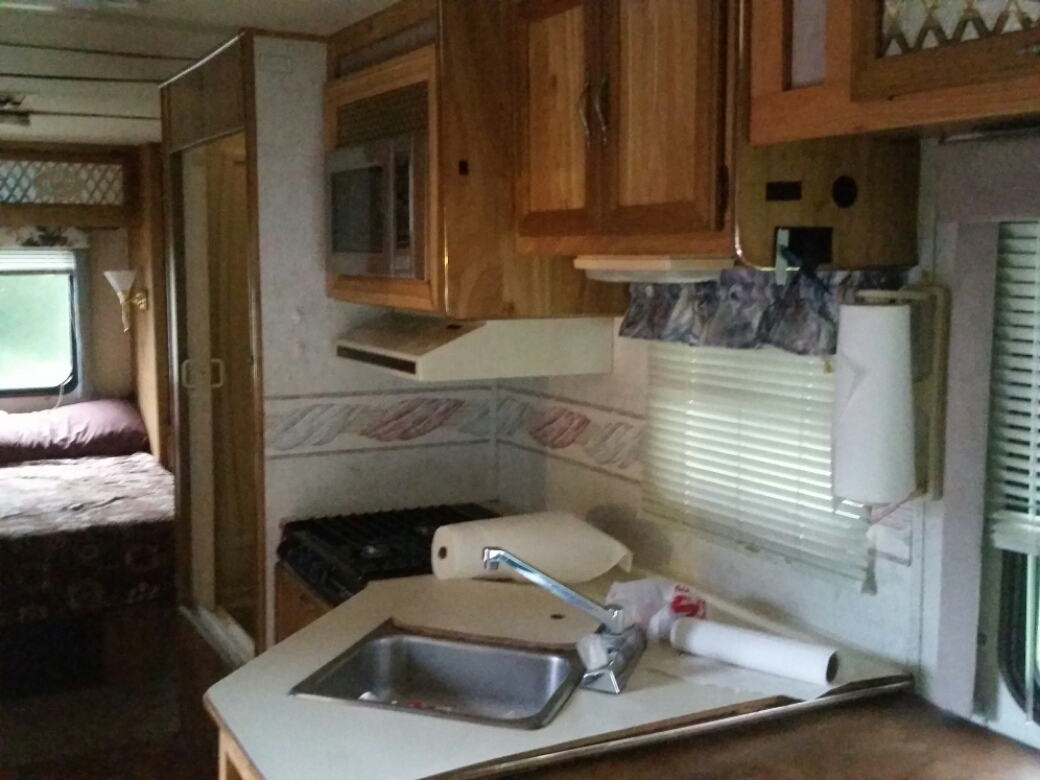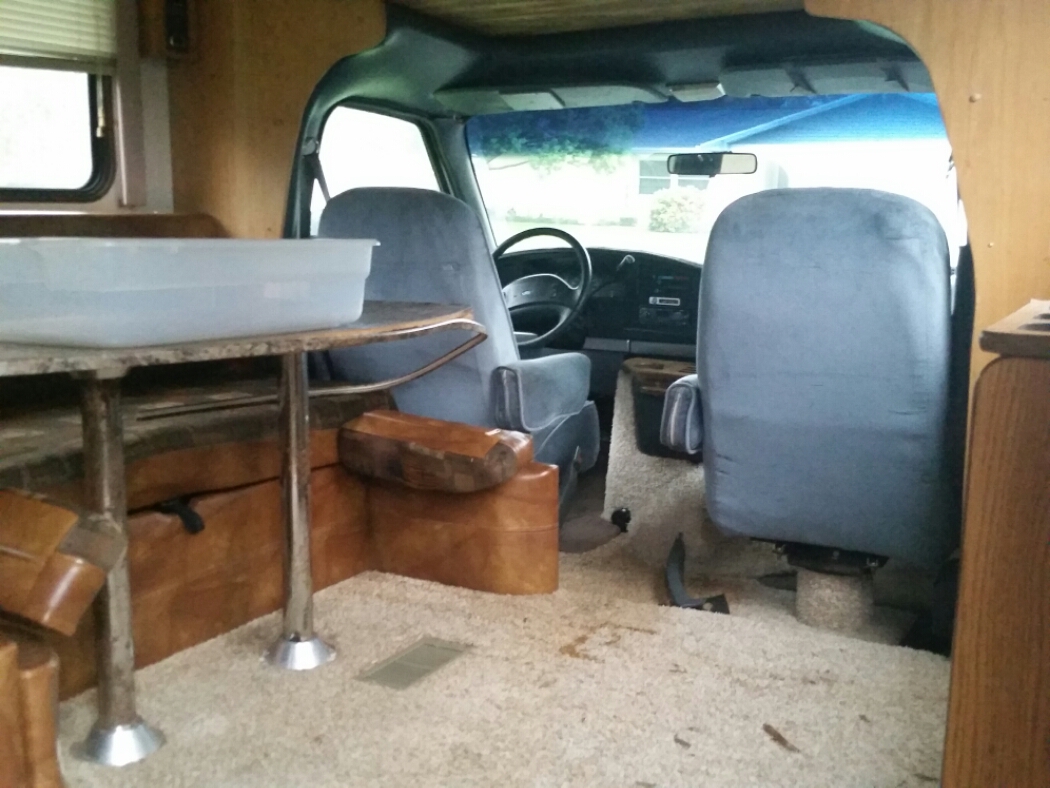 The jackknife couch/bed was soaked, smelly and molding. The back bedroom was leaking as well and much of the cabinetry was some compressed paper product that took water worse than the particle board. The camper was a wreck, it was pouring rain and there was nothing I could do. Well, there was one thing I could do.
I knew I was going to have to find leaks on the roof, and to do that the roof was going to have to be cleaned. It was covered with black moldy stuff, and I knew the roof underneath was supposed to be white. I decided to use the endless buckets of rain to my advantage.  I found a deck brush my Dad had laying around for his sailboat, grabbed some dish soap and climbed up on the roof. I spent a good three hours in the never ending rain scrubbing the roof on my hands and knees. This allowed me to thoroughly inspect the roof while scrubbing all the junk off. I found a couple of suspect areas that looked like they needed a ttention.
After three days of ridiculous rain, the sun started to show. I had my parents car available to me so I started trying to deal with the leaking roof. There is a motorhome supply store nearby my folks house, Harberson's RV, so I headed over there to see what I could find. I found a rubber roofing product that applied like paint for $90 a gallon. One gallon gave me one and a half coats of the roof. I took all the stuff off the roof, vent covers, the air conditioner, other various covers. It was 90 degrees, the sun was shining and it was about 90 percent humidity. I slapped the coating down as fast as I could. It took about four hours, including a short window of drying in between coats. It was brutal.
The next day I put all the vent covers back on. It turned out whoever had installed them had done so incorrectly by fastening them directly to the roof. This put four holes in the roof for each of the four covers. I was pretty sure every one of these things was leaking. In addition to the holes in the roof, they way the vents had been mounted had them elevated slightly off the roof. This allowed water to go under the covers and get right to the screws in the roof. When I picked up the roof paint I also got some tubes of rubberized RV roof caulk. When I put the covers on I liberally applied caulk to the screws in the roof. Then I sealed the covers to the roof as well. Hopefully we would be leak free from here on out.
Another issue with the camper was the cooking situation. It came with a three burner propane stove top and a combination microwave/convection oven, which was quite small. This cooking situation was not going to be effective for Team DeCorso, so I needed to find an alternative.  I found an RV stovetop/oven on Craigslist that was about 20 miles away and gave them a call. It seemed the dimensions of the oven would allow it to fit where the current stovetop was if I removed the drawer underneath it. So off I went to fetch the stove. I got back late and put it in the next day. With just a little trimming of the space, the oven slid right in. Thankfully the camper came with a full tank of propane so I was able to be sure it worked properly.
By now I had been gone from Fairbanks for too long. It was time to head home. The fair was coming up,  and I had a lot of work I needed to get done to the house and cars before I could head back to Florida and off to Europe.