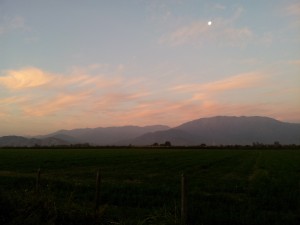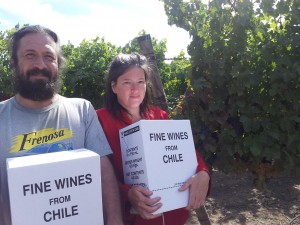 One of the best things about Chile is that wine is cheaper than bottled water, soda, juice or milk.  We have become very used to cheap wine, where we start to think that $10 a bottle is really a lot to pay for wine.  We have pretty much stuck to drinking the wines Chile is renowned for, which (lucky for us!) include Merlot, Carménère, Zinfandel, Petite Sirah, Cabernet Sauvignon,  Pinot noir, Syrah, , Malbec, Chardonnay, Sauvignon blanc, Sémillon, Riesling,  Gewürztraminer and Muscat.
Ryan is old enough to drink wine here and he has been interested in wine – what is good wine?  How do you  know it's good wine?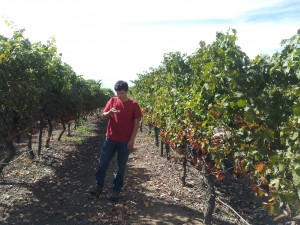 We began with Carménère, one of the original six red grapes of Bordeaux, France.  You can tell the Carménère grapes because the leaves are bright red in the autumn and they look beautiful with the mountains of Patagonia in the background.  We tried mid-range wines (1800CP or about $3.75), high end wines (4500CP or about $11), reservas and gran reservas.  We visited a vineyard and bought a case of gran reserva.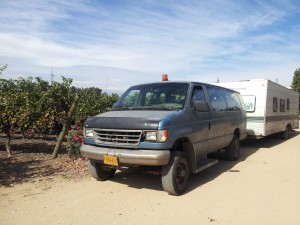 Along with Carménère, we bought several fine late harvest wines.  Shopping for late harvest wines led me to a Cabernet Sauvignon Rose, which I had never tried.  I liked it quite a bit and we tasted our way through several kinds, liking the organic Miguel Torres wine the best – which led us to the Miguel Torres Vineyard.  Miguel Torres was one of the fine wine makers who invested in Chilean wine, along with Robert Mondavi and Château Lafite Rothschild.  We visited the Miguel Torres vineyard, leaving the youngest 5 people in the camper with cream cheese sandwiches and pineapple soda.  We were the only people at the vineyard, we are here in Chile out of season.  The young man who provided the tours was practicing his English, having lived in Alberta for 4 years.  It was a lovely, sunny day and the vineyard was beautiful.  We sat at a tasting table and talked about Canada and tasted wine.  Our guide told us there was an $8USD uncorking fee to try any wine but once the bottle was open, the wine was free.  Ryan selected the most expensive bottle, an $80 2009 Gran Reserva Cabernet Sauvignon and we drank it.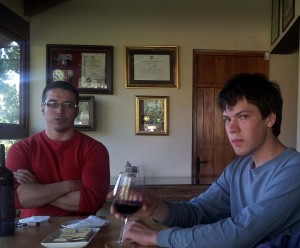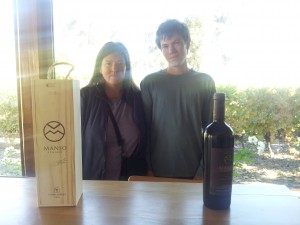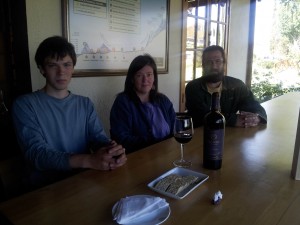 The vineyard had an excellent restaurant and we spent some time thinking about how long we could leave the youngest 5 in the camper before some kind of Lord of the Flies thing would take place.  We opted not to eat there – but, oh I so much wish we had!  The food sounded wonderful and it all came with "matching" wine.  Mark took a photo of the menu because we decided we need to have parties like this when we get back to Alaska.  Here are two entrees:
Crab ginger cake served with Tongoy scallops breaded in purple
corn, tomatoes confit in Las Mulas organic olive oil and
lavender and cardamom salted foam
Smoked salmon tartar, toasted almonds, capers, olives and coriander in
soft citrus vinaigrette, served with mustard caviar, squid ink
streusel in Shot of avocado and watercress
You have to admit, the foam is intriguing!
At one point, we were meandering around the Lake District where there are a lot of German immigrants and a lot of German food like strudel, schnitzel, spätzle and, of course beer.  We camped (smart thinking, eh?) in the parking of the Kunstmann Brewery where we tried to take the kids out to dinner but, because we have weird kids, the girls opted to eat camper food so Max, Jack, Ryan, Mark and I went in for appetizers and beer.  Ryan, Mark and I ordered the 12 beer sampler.  We also had spätzle, a plate of sausages, fried empanadas and that South American vegetarian standard, the avocado sandwich.  The beer was meh – but we had a good evening.