This may be our last night in Cartagena as the van & camper have arrived after their sea voyage.  We MAY have the vehicles as early as 10 am tomorrow so we need to be ready to leave.  We will miss the ice cold AC and the screaming wifi but we are all really looking forward to the camper and the moving on.
It is an 11 hour, 325 mile drive to Medellin.  Pretty much all up hill.  We are exploring Colombia so we don't have any set time to be any place except eventually in Ecuador for our immersion program.
We had to go to the ATM because we need to pay our customs fees in cash.  Mark saved us more than $300 by doing the paperwork himself this afternoon!  You can hire a person to do it all for you but you don't have to do that.  People seem to be split on whether it is worth it or not.  We were lucky that we had a super nice shipping company – and of course, Mark is very personable and talkative and he actually arrived back at the hotel on the back of someone's motorcycle.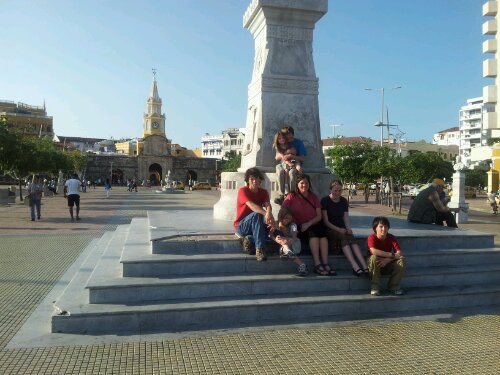 We stopped to watch some dancers – Sylvie loves this, we have to drag her away.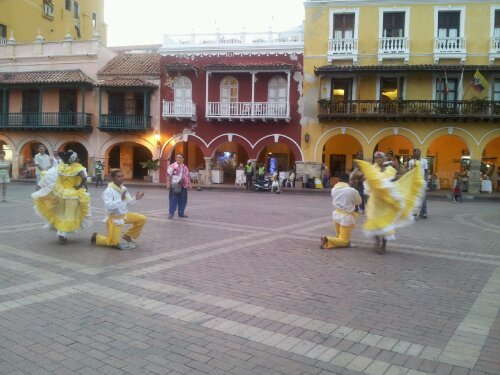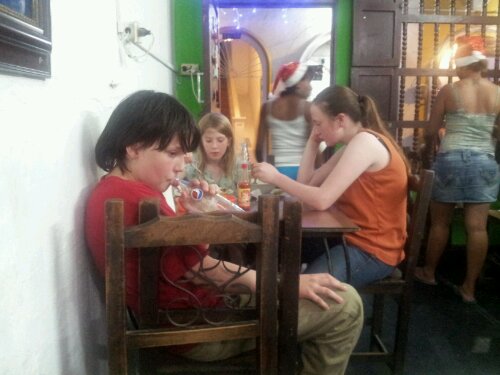 We went out to dinner and had a very authentic Colombian meal.  For $6000 COP ($3.34), we each got a dinner that included soup, rice, beans, salad, & fried plantain + whatever main dish we chose like pork chops or chicken or steak.  Jack chose a very authentic sounding dish which we could not translate (yolo!)  — and he got hot dogs cut up on french fries (photo below).  Ryan and I ordered the vegetarian plate and we got this as main dish: an egg on top of a ball of rice and side of spaghetti.