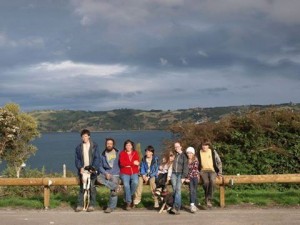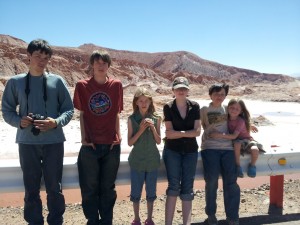 Team DeCorso is a family of eight people, two dogs, two cats, a budgie, some fish, every now and then chickens, dairy goats and honeybees, the occasional long-term house guests and assorted rescue animals.  We do not travel with the goats, bees, fish, chickens or budgie but we have traveled with dogs and cats and house guests.  We have a Canadian Border Collie named Trek and an Ecuadorian street dog named Lucy, but often called Salchi, because she looks like one.  A few years ago, we came to terms with the fact that we could have it all, farm animals, pets, a garden, world travel — you just need extra patience, and a great house sitter.  We also rent our cabin on airbnb, it helps with the finances.
Our kids are between the ages of 7 and 20 (Sylvia, Annabelle, Max, Jennah, Jack & Ryan).  On our first trip, it was 3 – 16.  On the South America trip, our youngest was 5 and our oldest graduated from high school whilst in Lima.  Our next trip will see our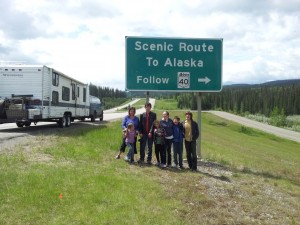 oldest, Ryan, in college for most of the year (our new great housesitter!), but he will join us at winter break.  We have three girls and three boys, all home schooled (or perhaps world schooled is a better term).  When we are not traveling, we live in Fairbanks, Alaska on a five acre homestead north of town.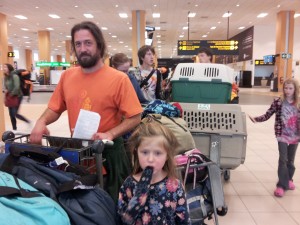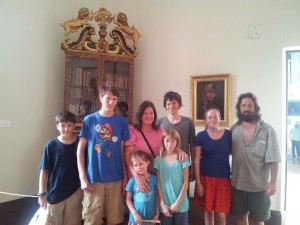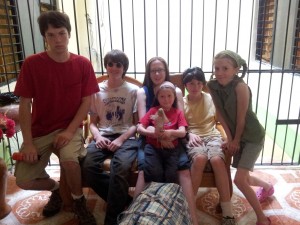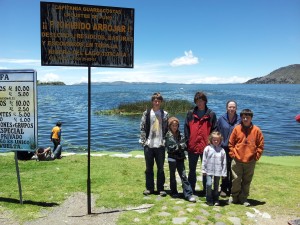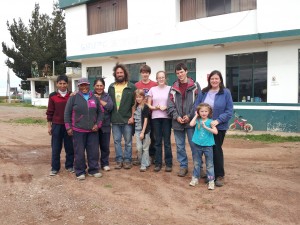 My job is distance-based from Fairbanks so it makes very little difference if I am working in Fairbanks or Chile, as long as I have good, reliable internet.  And most of the world has better internet than Fairbanks!
Once, years ago, we told our children that they could each pick a trip of a lifetime and we would do that trip if we could afford it.  We live in Alaska so we mandated that the first trip be a comprehensive tour of the United States of America, which we did in 2010 -2011. Our oldest son Ryan picked South America (specifically Colombia, Ecuador, Peru, Bolivia and Chile) for his trip of a lifetime.  We figured out the best way to go (camper trailer and van). And we went!  The combination was not as tall as most RV's (important for driving under low hanging power lines), the van is an old North Slope 4wd diesel (important for driving at elevations higher than 15,000 feet) but most importantly, it let us have a good home base for school, for work, for cooking, and, most unexpectedly, for entertaining.  We did not pick a fancy camper, we were mentally prepared (we thought) to walk away and abandon it at any time.  In the end, we sold the camper in Chile and freighted the van from Santiago to LA and drove home.
Second oldest son Jack is an excellent bagpiper.  He picked Scotland and Ireland and as much Europe as we can fit into nine months (excluding southern Europe — that is third oldest child Jennah's trip!).  We have a new expedition vehicle, now in Tampa, awaiting modifications (6 bunks replacing the master bedroom).  We ship it over in October.
Throughout all of this, we have continued to travel between Big Trips.  Oldest son Ryan went back to Bolivia three months and left, fluent in Spanish, to travel for three more months to parts of South America we did not get to do yet.  Nine months in South America was just not enough time.  Jack & I flew to Bolivia (using all of our miles) to visit Ryan for three weeks.  Mark & I flew to Mexico City to meet Ryan and help debrief him on his way home, because flying straight from Paraguay to Alaska is just a lot of culture shock.  Mark & I went back to Mexico City for a week in May 2015 for a little vacation.  My job takes me to the bush every few weeks.