I have been to many bakeries around the world. I have been to bakeries in London, Dublin, Lima, Cartagena,and Wales and in a lot of small towns but I think of all the bakeries I have been to, Mexico City is the best. British bakeries tasted better than they looked. They ha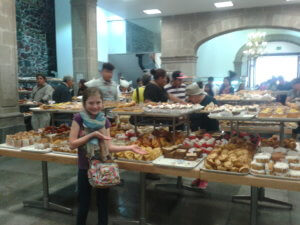 d eclairs in every single bakery in the UK. In Melrose, Scotland, I got an eclair and so did my sister Annabelle. Everyone in my family loves eclairs. They are so good! We went home to the camper that day in Melrose and my mom twisted her ankle on a cobblestone and it hurt for months. In Scotland, most of the bakery things we bought were pies. You might be thinking of the kind of pies that have strawberries and cherries in them but no, these pies have mashed potatoes, minced meat, macaroni, and cheese, they were delicious!. My sister Annabelle loved them the most. In Wales, we went to a bakery in Conwy and I asked my mom if I could get a piece of gingerbread, gingerbread is one of my favorite cookies. It was soft, not too hard, I loved it, it was delicious! In Beaumaris, I saw happy meals at a bakery that had cookies, crisps, a sausage pie and a juice box. I wanted one so bad. We were about to leave and I asked my mom if we could get one before we left and she said yes! We ran down and I got one and it was scrumptious. I was happy for the rest of the day. Although I did not eat my gingerbread. In Peru, all the cakes looked awesome, cakes with beautiful round toppings with little points on top and strawberries but when you bite into them, they tasted bad. We ordered one slice and all of us could not finish it. Every single thing was bad. In Colombia, it was boiling hot and we had to drink water out of bags but it was fun in the end. The first night in Cartagena there was a bakery right down the street and the food was great! They had cheese bread and jelly filled bread but afterawhile, I ate there every night, I got sick of them and I ate more street food – my favorite was kabobs but everyone else liked these pastries filled with burger meat but they had onion in them. Nothing compares to the Mexico City bakery, Pasteleria Ideal. The bakery had a window full and stacked high with every kind of cookie you could imagine, chocolate chip, jelly filled, tarts, every single kind. It was amazing. There was a donut section filled with donuts and cupcakes, stacked high, it was beautiful. There were sections and sections and sections for sandwiches and empanadas, bread, jello cakes, it was amazing, amazing, amazing!
I know for sure that the Mexico City Bakery is the best one I have ever gone to in my travels.